On September 24th, the 19th Smithsonian Museum will welcome its newest museum: The National Museum of African American History and Culture. The museum is in the US capital, Washington D.C at 950 Independence Avenue SW. It was designed by David Adjaye. It is a black cube covered by three aluminum strips that form three edges jutting out in the front and back. President Obama, the first African American president, will attend the grand opening. This museum is a big further step in integration. It took thirteen years to see this project to the finish and this is a historic moment many have been waiting for.
This museum is already so popular that it has issued 80 thousand new entrance passes. All passes in September are completely sold out. The museum has unique artifacts such as linen given to Harriet Tubman from Queen Victoria, the coffin of Emmett Till, and even Muhammad Ali's headgear. Not only are the artifacts unique but the construction itself is quite something.
The construction of the building alone cost 250 million US Dollars. At seventy feet this museum is the deepest museum in the national mall. The first cement was poured in 2012 and by december of 2013 the five basement levels had almost finished being added. Now fully completed the building stands five stories tall (having five underground) and is 350,000 square feet in total. The building's three aluminium strips coated in bronze represent the filigree ironwork that slaves made. "It's about architecture but also about memory and history" Adjaye says in Vogue. As long as it took to build, it took even longer to establish and to find the funding for the project.
Story continues below advertisement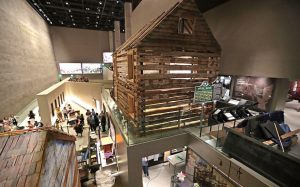 The historian, Taylor Branch, said " I never thought a museum like this would take shape" and, in fact it didn't take shape for an exceedingly long time. Early efforts in establishing this museum began in 1915, but the building only became established in December of 2003. Because African American works haven't been seen as important for a very long time, it was a struggle to find artifacts for the museum. The first acquisition was Nat Turner's Bible. The associate director of curatorial affairs was skeptical when a woman named Wendy Porter called to say she had the bible, since there had been many calls with people claiming they'd found it. Once it was actually proven to be Nat Turner's Bible, they had a lead. Shortly after that a program called Saving African Treasures was created in hopes of having artifact donations. Professional Conservationists went around the US collecting donations. The many donations through the program helped create a total of 35 thousand objects, including original art. With that they had a museum.
"What I argue is: this is not a black museum. This is a museum that uses one culture to understand what it means to be American. That to the mind is the cutting edge"-Lonnie Bunch, the museum's founding director said.
The building is presented chronologically, having the bottom levels be about "Slavery and Freedom" and the upper levels more about culture. There is a slave cabin that was dismantled in Point of Pines, Edisto Island, South Carolina and reassembled at the museum. Because so much of African American History has to do with slavery, the upper levels are a slight consolation by showing artistically cultural contributions as well.
In terms of integration the founding director has said "Instead of simply saying, 'This is our story, period,' we want to say, 'This is everybody's story.' ". This museum is not separated from the rest of American history. It is more like a missing piece of history that has been disregarded for centuries and now it will be given its proper place in the US capitol next to the Washington Monument. It is a step forward in integration because it is everyone's history.
"There are few things as powerful and as important as a people, as a nation that is steeped in its history."- Lonnie Bunch Said.
By Celeste L. Bloom