This February, as I was leaving a local supermarket, a high school boy handed me a flyer with the title: "Do you want your kids brainwashed by anti-Christian Globalists in School? If not, then tell the School Board to ban the International Baccalaureate Programs in Fairfax County NOW!"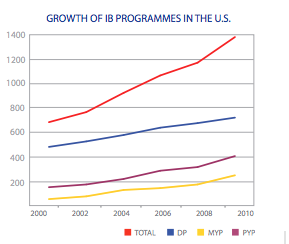 At first, I was completely shocked by these claims: how could people actually believe that the IB was brainwashing children? I started to wonder where and how did this hatred towards the IB originate from? 
In the past five years, the total number of IB programs in the U.S. has doubled. All three of the IB programs — the Middle School Years Program (MYP), the Primary School Years Program (PYP), and the Diploma Program (DP)–  have continued to grow at an increasingly fast rate.

In just the DMV alone, there are already 139 schools with IB programs according to the IB. Many counties are thinking of adopting the IB program as an alternative to AP exams. In Fairfax County alone, 30% of schools are part of the IB diploma and many more are expected to soon become a part of the IB.
Story continues below advertisement
The Sound of Ideas, an Ohioan daily talk show, believes that the IB's increasing popularity in the U.S. is due to the fact that the program "seeks to teach students not just what they need to know, but how to think and learn."
As a result of the recent popularization of the IB in the U.S., there has been some backlash against the program. Some people are convinced that the IB is promoting anti-American and Anti-Christian values. There has been a strong force of opposition, pushing to remove the IB program from schools.
In light of WIS turning 50 this year, I have decided to look back and reflect on the IB's purpose and its enormous impact that it has had on the WIS community.
What is the IB?
The IB, founded in 1968 in Geneva, Switzerland, is recognized around the world as an extensive and challenging high school curriculum. Today, the IB, with its mission "to develop knowledgeable and caring young people who help to create a better and more peaceful world," is provided in over 3,500 schools in more than 145 countries. Every year, over 120,000 high school students take the IB examinations.
The IB encourages students to think independently and critically, to become more culturally aware, and to be able to interact with people in an increasingly globalized world. From the age of three, kids in the IB are exposed to lessons that teach students to be reflective, open-minded, balanced, and principled, in hopes of helping children become a more well-rounded individual. This international awareness that students receive is the source of the anti-American or anti-Christian accusations.
The WIS Director of Studies and former AP English teacher, Mr. Jim Reese, said, "There sort has been this reactionary conservative movement against the IB for the last 10 years. And every once and awhile those accusations will arise, because in the IB you don't study American history or American literature. You study world history and while you might learn about American history, you learn about it in the context of what's happening elsewhere around the world at the same time."
IB's Appeal to Universities
Not only does the IB give students a global perspective of the world, it is also extremely appealing to universities. The Diploma Program, itself, is one of the most, if not the most, challenging high school program in the world. The Diploma Program includes an advanced academic curriculum, ranging from the sciences to the arts, and several core requirements, including TOK ( a course that teaches IB philosophy), an Extended Essay, and CAS hours (extracurricular activities emphasizing "Creativity, Action, and Service.") All this hard work pays off because graduating with the IB almost guarantees you a spot at a prestigious university.
"The IB is looked at very favorably by universities, but especially the elite universities. It's understood that if you've gone through the IB diploma program, you are going to have a really rigorous education coming into university. You will be very well prepared. Universities love that," Mr. Reese said.
The IB gives American students an opportunity to go to university around the world. This is one of the largest advantages of the IB: it is recognized by universities from all around the world leaving students with an infinite amount of possibilities for their future.
However, even if students decide to stay in the U.S., they still choose to take the IB rather than the AP to earn as many college-transferable credits as possible or to improve their college application by boasting the IB diploma as an achievement.
"Universities love people that go through the IB program. They know the AP is rigorous too but I just don't think it's the same kind of rigor because a lot of it has to do with quick, somewhat superficial responses, while the IB pushes for a deep understanding," Mr. Reese said.
The Future of the IB at WIS
This deep understanding that the IB pushes for has made the curriculum very challenging.
Its difficult curriculum has gotten a reputation for causing a tremendous amount of stress. In an informal search of the IB on Google, the first pictures that pop up are memes about the stress associated with the IB.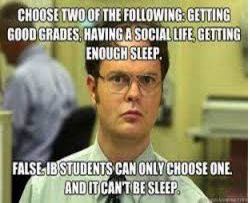 At WIS, more specifically, there are many students that are struggling to meet all the deadlines and study for the weekly tests. After talking to Mr. Reese, it became clear that to survive the IB Diploma Program, time management, commitment, and work ethic are essential.
"Students have to learn how to manage their time. We've noticed at WIS that students have been more stressed by the IB diploma then they have years before.We as a school need to be better at helping students find those organizational skills. We are trying to do that. That's the key. I think that all of our students are capable of doing the diploma," Mr. Reese said.
Mr. Reese additionally suggested that WIS needs to make sure that it well prepares students for the IB diploma program in 9th and 10th grade.  
"9th and 10th grade need to be fairly rigorous so that the jump between 10th grade and 11th grade isn't so great. What I think we need to do is help the students who seem to have stress points in 9th and 10th grade." Mr. Reese said.
Ms. Bachman, the learning specialist at WIS, suggested that WIS should educate its students on neuroscience and on different studying methods to help students learn how to handle stress.
"If you understand how you learn best then you are better able to be more efficient. So I think that teaching kids about neuroscience, the brain, and how we learn will to some extent reduce stress, " Ms. Bachman said.
Ms. Bachman also mentioned that in order to handle stress in a healthy manner it is crucial that students talk and share their feelings with people they trust.
"The other part [of learning to handle stress] would be sharing that you are stressed. Realizing that that is a common experience around the IB. And realizing that yes, there are going to be stressful moments during the IB but that it doesn't define who you are in life. WIS needs to help students see that this is just a particular moment in time and that they still have a long time to do all kinds of things." Ms. Bachman added.
Looking Forward: WIS from 50 to 100
In its first 50 years, WIS has provided every one of its students with not only a superb education, but it has also taught students how to have a hard work ethic and how to find the perfect balance between life and work.
Taking into account the tremendous impact WIS has, with the help of the IB, made on the lives of all of its students, it will be interesting to see the evolution of WIS as it enters its next 50 years and beyond.
Jacob Eriksson, a graduate from 2002 and now a university professor in York, said, "The IB was the best possible preparation for university imaginable. I have a BA, MA, and Ph.D., and yet I don't think I've ever worked harder than I did during the IB."
Arun Chopra, a graduate from 1991 and now a pediatrician at NYU Langone Medical Center conveyed a similar sentiment. He also added, "The IB taught me to think and seek a deeper understanding. It helped make me a better doctor because I seek to understand the why and not just the how."
By Marianna Ioannou