The chicken or the egg? I would take the egg, if it's from Cracked Eggery! If you are looking for a protein-filled meal, a nearby location and friendly service, be sure to check out the new and original Cracked Eggery in Cleveland Park. Among a large selection of egg sandwiches and egg-based bowls, we suggest the unique egg burger, a WIS student favorite.
Success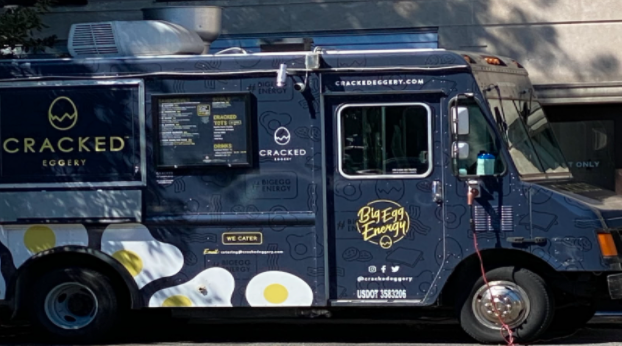 From food stand, to food truck and now restaurant, Cracked Eggery grew from one success to the next. Clients have come to the restaurant in search of something new since its opening on September 10.
The restaurant boasts a 4.4 star rating on Google Reviews and has experienced a large increase in customers since its opening day, according to a Cracked Eggery vendor. In response to high demand, the restaurant extended its closing time from 3 p.m. to 8 p.m.
Story continues below advertisement
Among the juniors at WIS, the restaurant has received high praise. "It's the best place to eat on Connecticut," Juan Deverines García said.
Many other students were equally impressed when first trying the restaurant. "I find that it was very different from the norm in the way that it explores different tastes," junior Sebastian Illing said. "I had never seen an egg on a burger, but it actually tastes surprisingly good."
Ambience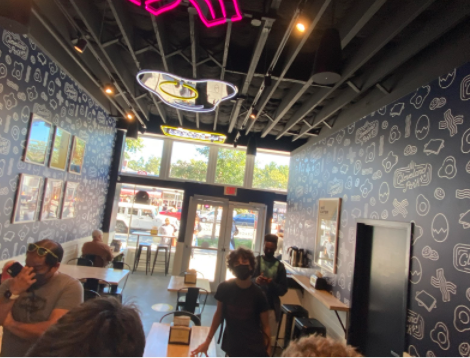 For here or to go? The eatery can accommodate about two dozen customers inside and another dozen outside. The restaurant is fun and its relaxing music is welcoming. The delicious smell of eggs wafts from the large kitchen.
"The very lively atmosphere and the niceness of the waiters make up the great experience of eating at Cracked Eggery," Deverines García said.
Scurrying waiters and emphatic orders from the kitchen ensure the food is served in no time.
Menu
Apart from its signature egg sandwiches and bowls, Cracked Eggery serves a variety of sweet and savory Tater Tots, as well as a few dishes from around the world. 
The most acclaimed is the "Seoul Mate Bowl;" a Korean combination of pork belly and kimchi. The restaurant also provides a few pescatarian and vegetarian options, such as "The Bubby," a salmon, egg,and cream cheese sandwich.
Illing became an immediate fan of "the Bubby." "It was a combination of flavors I don't usually like that come together to form something I actually really liked," he said.
Additionally, the eatery provides a large variety of gluten free rice bowls. "I was actually pleasantly surprised by how many options they had," junior Eleanor Hawkins said. Hawkins has Celiac disease, and often struggles to find options at restaurants.
Why choose eggs?
For those of you with parents who watch over your nutrition, here are some reasons why an egg-based diet can actually be healthy. Eggs are the only source of natural proteins that contain all 21 amino acids. Nine of these amino acids cannot be synthesized by our bodies and must be acquired from our diet.
In fact, the Biological Value scale ranks eggs at the most efficient source of protein. Plus, most sources claim that it is healthy to eat up to three eggs per day. Because of its excellent source of protein, the Cracked Eggery menu is also perfectly suitable for all of you gym rats!
Environmental Impact
Despite its many positive aspects, Cracked Eggery does not provide any background information or guarantees on the quality and origins of its ingredients. In a society that is increasingly looking for healthy and ecological options, the eatery should opt for an all organic menu and offer more vegetarian alternatives. However, the minimal use of wrapping and packaging is appreciated by environmental enthusiasts.
Conclusion
Cracked Eggery will likely become a prominent part of the Connecticut Avenue restaurant scene due to its original menu full of healthy choices, a lively atmosphere and an ideal location. Checking out Cracked Eggery is a must for WIS students and faculty.
By Giovanni Mancini-Griffoli and Bijan Akhtarzandi-Das