Ever since Middle and Upper School Mathematics Teacher Andrew Sopher and Middle School Learning Specialist Michaela Audette started dating, WIS students have been invested in their relationship. For the first time in three years, they are addressing their relationship and recent engagement with International Dateline.
Although they have been shipped for years by students, the couple just decided on their ship name, "Audopher." "It makes me smile the most because it's ridiculous," Sopher said.
Sopher came to WIS in 2019 as a long-term substitute for Middle School Science Teacher Amy Tong-Meisels. That week, Audette was at professional development in Texas. When she returned to campus, they touched base so that she could get Sopher acclimated with the student body.
Their first impressions of each other were indifferent. "I was sizing him up as a teacher and not as someone I was looking to date," Audette said.
Story continues below advertisement
Sopher shared a similar sentiment. "I was focused on new buildings, new students, new classrooms. Everything was just new for me, so I didn't put much thought into anything in particular," Sopher said.
The couple first hung out in large groups and soon realized that they had lots of things in common. "We just kept gravitating towards each other," Audette said. They chaperoned field trips, minimester trips, and the school dance together.
"When you see TV shows and movies, there's this whole build-up to, 'Oh my gosh, we have to go on a date,' but our first unofficial date was when we went to the middle school [musical], 'Anything Goes,'" Sopher said.
After the musical, the two of them, as well as Middle School Principal Randy Althaus and former Media and Theater Coordinator Mark Perkins ate dinner on the rooftop at Cleveland Park Bar and Grill. Later, Althaus and Perkins left at the same time, leaving Audette and Sopher alone. "They knew exactly what they were doing… but they'll never admit it," Sopher said.
The next week, the couple had dinner together again. "It happened organically," Sopher said.
Audette describes Sopher as "competitive, thoughtful and detail-oriented."
When asked about Sopher's beard, she said that she finds it attractive to a certain point. She thought that his famous COVID beard was "too much." "Andrew was sometimes like, 'why did you let me do that?' and I'm like 'because if I told you not to do it, you would have grown it twice as long,'" she said.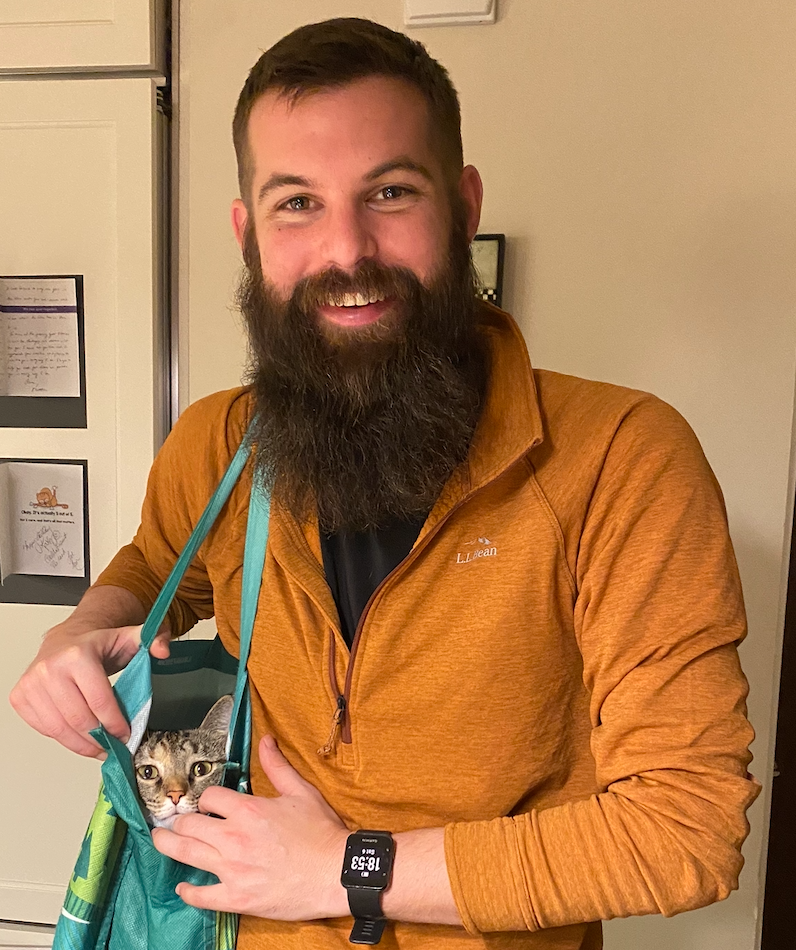 Sopher compares Audette to a golden retriever because she's happy-go-lucky, a people pleaser, and doesn't like conflict. "She's very thoughtful in the way that she thinks about the world, in the way that she thinks about our relationship, the way she thinks about our dog, thinks about my family and her family," Sopher said.
The couple likes cooking together and eating out. Some of their favorite restaurants are Siam House, Hank's Oyster Bar, El Chucho, and Medium Rare.
"During COVID, [we made] an effort to not travel too much for food and eat as close to this area as possible, even if it was just takeout, to support the Cleveland Park neighborhood," Sopher said.
The couple also likes running and hiking together in Rock Creek Park.
At school, Sopher and Audette didn't try to hide their relationship. The faculty caught on pretty quickly, and then the students did too. "It's common knowledge and it's part of the conversation if students want it to be," Sopher said.
Now, even some parents are invested in their relationship. "I've gotten a few emails recently from parents saying a short congratulations on the engagement, so the parent community knows," he said.
The couple said that working together hasn't affected their relationship, especially since Sopher works primarily in the Upper School and Audette works in the Middle School. "There are days where we don't see each other at work or don't communicate at work, " Audette said.
They catch up at home. "There are positives because we know everybody, so we can have a good conversation," Sopher said.
The only downside of working together was that during distance and hybrid learning, they were working in their apartment at the same time. "Two people having Zoom meetings in an apartment can be overwhelming and stressful," Sopher said.
During the pandemic, the couple started discussing the possibility of getting married. "We have similar life plans or goals so we've always been able to talk out loud together about [the] future," Sopher said.
They looked at rings in April and May of 2021, once things were starting to return to normal. "It was silly to get married during COVID because people would want to see us, to celebrate, to see the ring… we were very COVID conscious so we put everything on hold," Sopher said.
Sopher proposed this summer while they were on vacation on Anna Maria Island in Florida. The couple was having a picnic on a beach. "I was surprised in the moment," Audette said.
As Audette shoved a handful of chips in her mouth, Sopher took the ring out. "I had the ring [out] so it's not like I could hide it. I was like, 'Oh, okay, I guess this is happening,'" Sopher said.
The wedding is planned for April 2, 2022, in Washington, D.C. They only invited immediate family and Audette's godfather is going to officiate the wedding. "We're going to keep it small. We still don't know what the [COVID] conditions will be," Sopher said.
In the summer of 2022, the couple is going to have one reception in Massachusetts and one reception in Ohio for each of their respective families and friends.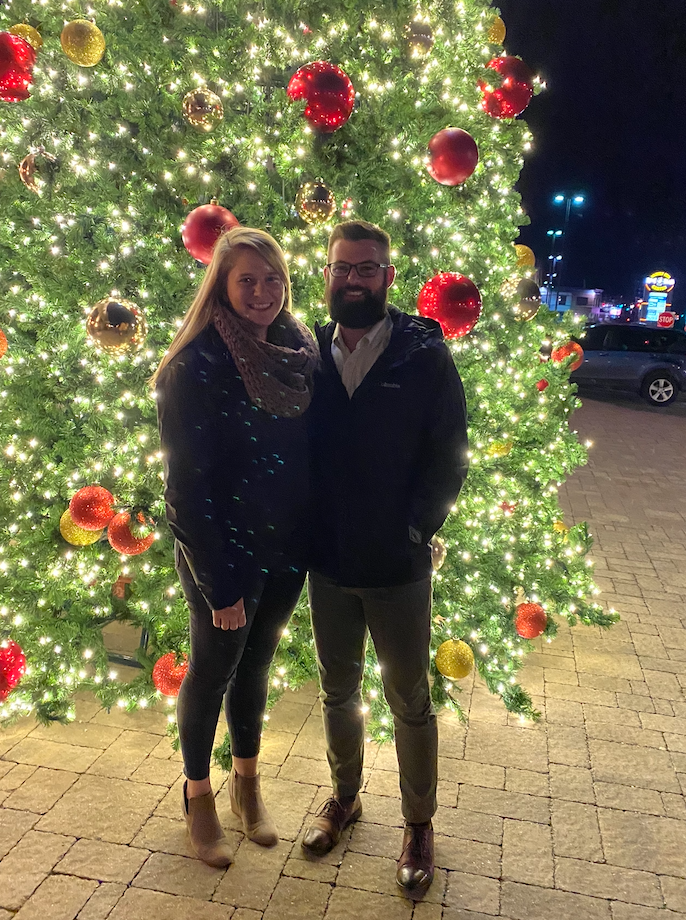 As for future plans, the couple wants to prioritize travel, especially to international destinations. Since they have been in the pandemic for most of their relationship, they haven't been able to go on many trips together.
"We aren't going to do anything too terribly gigantic, at least not right away," Sopher said.
The couple has also talked about having children but is taking it slow. "We're pretty comfortable where we are right now, so we're not dismissive or against it but we're also not in a race to have a child," Sopher said.
In the meantime, they have a dog named Buckeye. Sopher rescued him when he was around six months old and he's now almost eight. "He spent five years in Florida with me and then moved up here. So now it's three years in D.C., and Micheala has known him for two and a half years," Sopher said.
Thus far in their parenting dynamic, Audette is the good cop and Sopher is the bad cop. "She will give him whatever he wants," Sopher said. "He knows that and can manipulate her much easier."
"Andrew is more authoritarian," Audette said.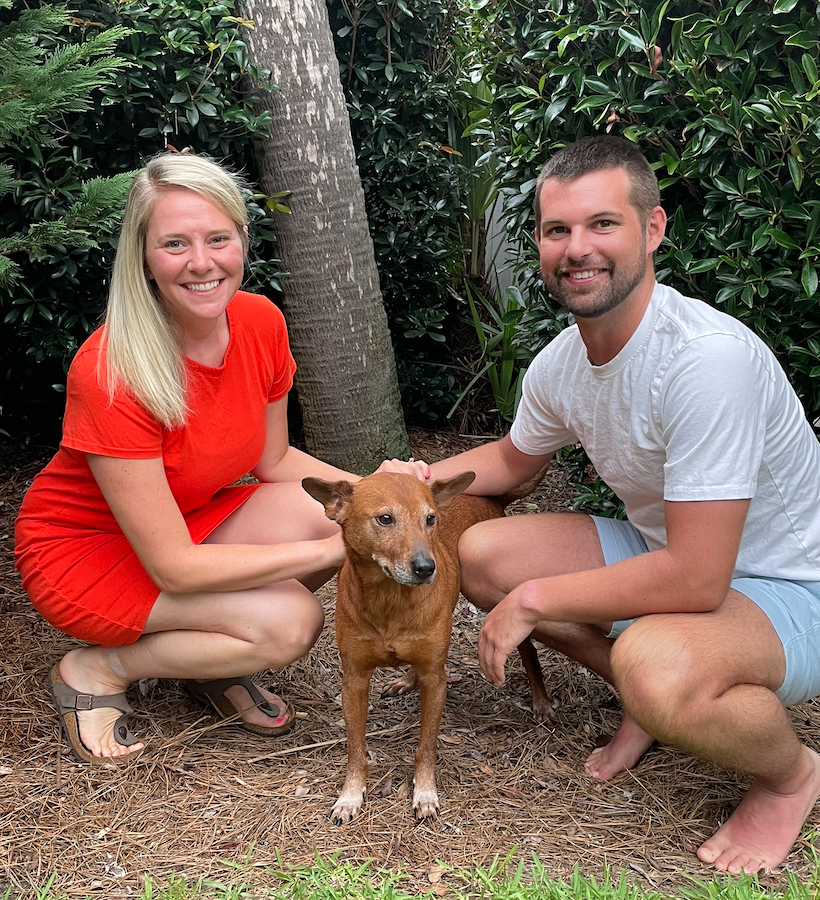 The fiances want the WIS community to know that their relationship is private but not a secret. "It's not a big deal. We're just two normal people who are together but who also happen to work together," Audette said.
By Zoe Hällström