Hybrid learning forced IB Art students this year to create most of their pieces from home. However, they still got to have the experience of an in-person exhibit. Seniors last year, on the other hand, finished most of their pieces at school before the pandemic began, but had to display their work via an online platform called Artsteps.
Because students this year had to work for home, they found different strategies that worked for them. Senior Clara Mello switched to using digital platforms, which had its pros and cons.
"I've always been interested in Adobe Illustrator and Photoshop, so it wasn't a huge deal to me to have to use those," she said. "I do like making pieces by hand [though]. [But] I couldn't do that at home because I don't have the space."
Having to create art from home forced students to rethink their approaches to art projects. Senior Vanessa Schor went into the course with "a lot of grand ideas," but had to scale back once the pandemic hit last March.
Story continues below advertisement
"The limitations pushed us to consider a lot more options that might not have come up if we weren't in quarantine," she said.
The biggest difference for senior Kseniya Rozhkova was having to organize her materials and where she would get them from before starting to create her pieces.
"At school you see materials lying around you, which inspires you to use them, whereas at home, you really have to come up with them from the beginning," Rozhkova said.
Not being in the same space as her peers, and getting inspired by them caused Rozhkova to do more research into professional artists for inspiration.
"You see someone working on something that might cause you to think of an idea, whereas at home it's a little bit harder to [do that]," Rozhkova said.
On April 27, students had a chance to showcase their work to the community in person. Parents, students and teachers were invited to walk through the exhibition in the AAA Building and listen to the students explain what went behind each piece.
The seniors described the exhibition as almost like pre-COVID times, with the exception of masks. The food for the event was located outside, which was different than prior years, so people could take off their masks to eat outside.
Schor believes it was definitely worth having other people appreciate and understand her hard work and hopes that all senior classes will get that experience as well.
"I honestly wasn't expecting to enjoy explaining my art that much, but I think there's some sort of satisfaction of being able to share your work with people," she said.
Mello also enjoyed being able to share her work and observe what her peers had been working on. She did note that it was strange having to interact with so many people at the same time after so long.
"It was hard to adjust to. Especially because now, with less COVID restrictions, people are getting more relaxed about it. It's overwhelming to have it all happen at once," she said.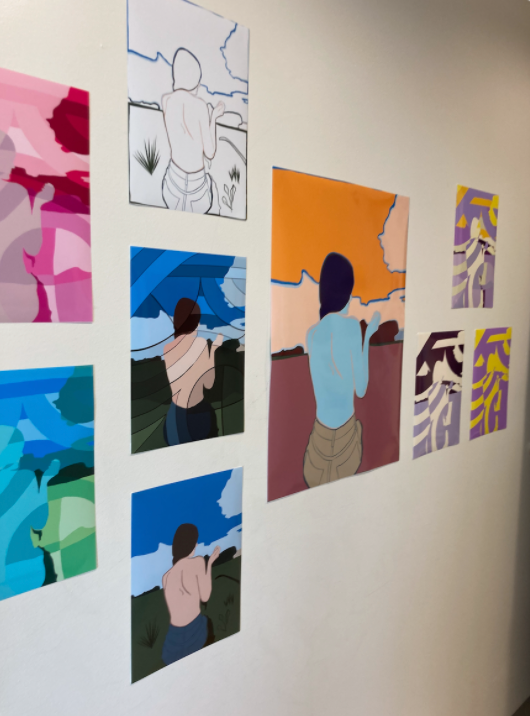 Now that the showcase is over, and IB Art is finished, students have mixed emotions.
"It's definitely a relief. But there are missed opportunities, especially from the constraints of the pandemic. A lot of people didn't have the opportunity to do everything that they wanted to do and so there might be some disappointment," Schor said.
This is a bittersweet moment for Mello, since this was one of her favorite classes, where she got to express herself in a fun way.
"It's an outlet," she said. "But it's nice, because I don't have a sixth exam, so I don't have to worry about that anymore."
Rozhkova is also relieved to have the work for IB Art finished, since she had so much other work to do as well.
"It feels nice to be done, but it's a little sad that I'm currently not working on anything new," she said.
Schor is proud of all the work her peers have put into creating their art, and is happy that she has now "crossed the finish line" and is able to see the "fruit of [her] labor."
"It's a bittersweet moment because it is the capstone of all of your art making," she said. "Even if you did have things that you want to continue exploring, it's the end of your exploration."
By Naomi Breuer